Natali Morris Blog
June 19, 2017
I've always had a cursory understanding of insurance but just enough to secure a mortgage or buy a car. I was feeling a little silly about that so I picked up this book: Wise Up: The Savvy Consumer's Guide To Buying Insurance: Home, Rental, Auto, Umbrella Edition. It was written by a nonprofit consumer advocacy group called United Policyholders. They are not funded by any insurance companies.
I highly recommend this book! It is the size of a Kindle Single so you can finish it in a day and when you're done, you will understand exactly what you are getting and exactly what you are NOT getting when you secure an insurance policy.
There is no doubt that buying insurance can be sketchy but just like everything else in life, the more informed you are as a consumer, the better you will do. There are a lot of valuable nuggets but I've collected a few takeaways to share. These are things that I did not know prior to reading this book and perhaps you did not either.
About Those Comparison Websites: You know those sites that help you compare quotes from insurance companies? Those are not necessarily giving you the CHEAPEST results for a policy. Rather, they are giving you the cheapest price they think YOU can pay. These sites use your browser history to assume certain things about you such as income, buying habits, etc. They give you the most inflated prices based on calculated assumptions about you. So just because you got a list of prices on one results page does not mean that this is the best price. If you really want to be sure, you have to start calling around to actual people agents. Like pick up the phone. I know, intimidating thought.
About Rental Car Insurance: You know how you think you have auto insurance on your credit card when you rent a car? Well that may not be true. Most credit cards only cover damage to the rental car, which is fine as long as you don't hit anything else or hurt anyone else. I once hit a huge boulder with a rental car, which sounds like a real dumbass move but in hindsight was quite lucky because the rock was not hurt. The only damage – to the car – was actually covered. Had a person or other car been hit, I would have had to pay for all of that out of pocket. Also, your credit card most likely only covers rental car damage if you are traveling for personal reasons, NOT business. So if you are traveling for business and assume your credit card covers you, it may not. Call them to make sure.
About Your Claims: Most states allow insurance companies to increase your premiums whenever you file a claim. That claim can be for any reason, whether or not you are at fault. This is allowed by our government. This is government in the interest of big business at work here and the insurance companies pay big bucks to political campaigns to make sure politicians keep it this way. I think we all have the right to be a little bitter about this but all we can do is think twice before filing a claim if it is not abundantly clear right away that we need to. Evaluate this: Can you afford to fix something yourself? If not, file a claim. If so, pay to fix it yourself and avoid an inflated annual premium that you will likely now have to pay forever.
Have A CLUE: A CLUE report is like your credit report. CLUE stands for Comprehensive Loss Underwriting Exchange and it is a database that the insurance companies maintain and share about people and property. The CLUE report about you includes information about your driving record and claims history. The CLUE report about a property includes information about how often that property has had damage, claims, etc. Like a credit report, this can contain erroneous information and you are entitled to see it and request changes to it by ordering your free report here. However, if you want to see a CLUE report on a home you are considering purchasing, you are not allowed. Only the homeowner can request a CLUE report on a property. You can ask them to order it but you have no right to it. Looking over your CLUE report for accuracies is a worthy endeavor because insurance companies use it to rate your policies. If there are errors, you are most certainly paying more for insurance than you have to so take the time to look this over every few years at least. You are entitled to one free request per year.
How To Read A Policy: I thought that each company had their own ways of writing insurance policies. I guess that was a dumb assumption but now I that I've read this book, I have a pretty clear understanding of what is in an insurance policy. Each home policy lists the amount it will cover for 6 different categories, laid out A through F. Here is what each one means:

A: Dwelling: This is the amount it would cost to rebuild the home. Note, it has NOTHING to do with market value. Your home value could be inflated due to location but market value does not tell you how much it would cost to rebuild the structure. You don't want to pay too much for this because of market conditions. Make sure you are insuring your home for the amount it would cost to replace it, not the amount you could get for it on the open market.
B: Other structures: This is the amount it would cost to replace other structures like a detached garage.
C: Personal Property: This is the sum of your personal property. How much would you need to replace the assets that you keep inside the home?
D: Loss of Use: This is the amount the insurance company would pay for you to live somewhere else if you needed to. It is a temporary displacement cost.
E: Personal Liability: This protects you against accidents or losses, on or off your property.
F: Medical Payments to Others: If someone gets hurt on your property, how much will the insurance company cover to make them better? Consider our inflated cost of medical care in this country when looking at this number! An emergency room visit could blow right through this amount if you don't have enough here!

Auto Policies: Auto policies are written in similar fashion to the above but also cover things like damage to your car, damage to another car or property, medical bills for you, medical bills for someone else who was hurt in the incident. NOTE: This is the thing you want to be the most careful about! Don't go cheap on the Liability and Uninsured Motorist Coverage because if you are only covered for $500, that will get the injured party about as far as one Tylenol. After that, you will be personally responsible for the remainder of their medical bills! This is not where you should be saving money. Pay for the most amount of Liability and Uninsured Motorist Coverage that you can afford!
Umbrella Insurance: This was the main reason I picked up this book. I wanted to know what umbrella insurance really was and how to shop for it. Umbrella insurance is a policy that covers you for liability where your other policies would not. Anyone with a sizable asset portfolio or public brand should have something like this. I have even had an insurance company ask me about my use of Twitter when shopping for umbrella coverage. This is how exposed we all are! For example, if I told you to snort pumpkin pie spice through your nose on this blog and you did that, you may sue me for whatever kind of damage that caused. (For the record, do not do that.) Because we are all exposed in our litigious and exceedingly social society, we should all consider umbrella coverage. It is not very expensive – a few extra hundred dollars per year but you need to shop for it with experts who know how to evaluate your asset portfolio and your personal brand. I wouldn't buy this online. As a rule of thumb, you should buy $1 million more in coverage than you think you currently need or own.
One last thing to keep in mind is the importance of good record keeping. The book says that when it comes to insurance claims "he with the best notes wins." Or she! The authors, United Policyholders, have an app that you can use to inventory everything you own in the event you need to file a claim to replace it. This sounds like an exceedingly tedious chore but I concede that it is a worthy task. We had some extensive damage during Hurricane Irene in 2011. Specifically this happened:
So I am very aware of the need for good insurance. I'm just glad I understand it a whole heck of a lot better now.
What are some issues and concerns you have had about insurance shopping? Happy to learn together!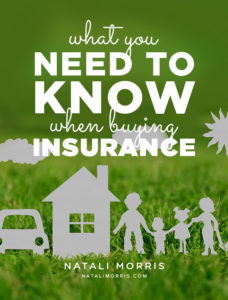 Disclaimer: Natali Morris is not a certified financial advisor. She is an autodidact. She writes this blog to chronicle and share her self-guided education about personal finance. She is not selling financial products or recommending that you do anything other than educate yourself on the various options about finance.