Natali Morris Blog
January 20, 2016
If you own a small business or work as a contractor, how much do you put away for taxes? How much do you pay yourself in bonuses or salary?
When I started managing our small businesses, I kind of winged it. Then I came across this book: Profit First: A Simple System to Transform Any Business from a Cash-Eating Monster to a Money-Making Machine by Mike Michalowicz. This system helped me immensely so strap in for another this-book-taught-me-the-way-and-now-I'll-share-it-with-you post.
Profit First is a system that tells you exactly how much to set aside in separate banking accounts for separate purposes. You distribute a portion of every dollar earned into one of four accounts. The portions vary as your business grows. We will discuss that later. For now, what you need to know is the four basic accounts to distribute your earned money into from each sale:
Operating Expenses. This is the account that you use to run your business and pay all expenses. Payroll, utilities, marketing, consultants, etc. Too often businesses spend most or all of what they make on operating expenses to grow the business. This should not be the case. How does the owner get paid if all the money is reinvested into the business? How do you save for taxes? How do you grow cash reserves? Too often we kind of hope there will be enough left over but that is not good management. The Operating Expense account will grow into Frankenstein's monster if you're not careful. It will destroy everything you earn and you will work yourself to the bone just to pay for what it cost you to make it. Michalowicz makes the case that the Operating Expense account should only be fed what is left over after owners and profit are taken care of, not the other way around. Here is his main disrupting theory:

Profit Account: This is where your business grows its cash reserves. It is also where the owners of the company receive their quarterly bonuses. You funnel a portion of every dollar earned into this account and the owners split 50% of what is in that account at the end of every quarter. This is bonus money. To be used for fun and enjoyment! Don't pay bills with it. Be lavish! It is to meant as an incentive to keep kicking butt in whatever it is you do!
Owners Pay Account: This may not be one separate account but it is a separate expense. Aportion of each dollar should go towards the founders, split evenly or at an agreed-upon equity split. Owners should always get paid! Too often this does not happen in small businesses and that is a bad thing. The owner will over-spend in operating expenses, gain no reward for their hard work, live on Ramen, and get diabetes and depression. See! You have to pay yourself! In our company, we try to pay ourselves as little as possible because we don't want to pay individual income taxes on that money as a salary from the LLC. Also, we want to funnel our family expenses through the business to maximize tax savings. You do have to take a regular salary from the business, however, or the IRS will call foul on your business. The point is, you have to get paid. Don't skip this and re-invest it all into the business.
Tax Account: Of course you need to set aside money for taxes. Michalowicz argues that a straight 15% of each dollar earned will suffice no matter how big your business and based on our tax strategy, I agree. Even if your business is in a higher tax bracket, you should have enough deductions to lower your actual IRS payment. If you don't, you're doing it wrong. Consider that some corporations pay as little as 7.5% taxes on their profits and re-read this post if 15% does not suffice for your tax bill.
How much you put into each account depends on your annual revenue. Find the column that your small business makes and use the percentage distributions accordingly: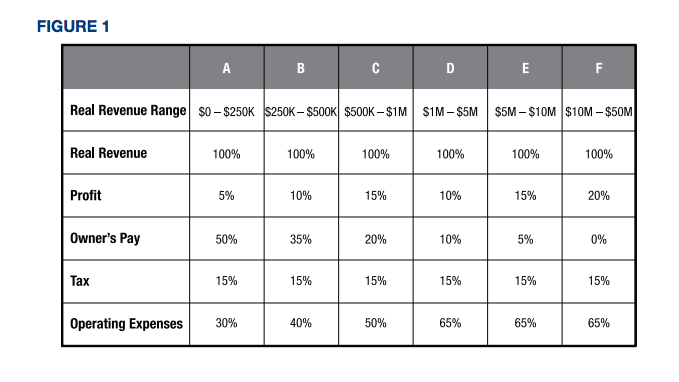 Our LLCs are currently operating in Column A. So let's go through an example using Column A. Say our real estate investing company Action Now Wealth Builders makes $1,000 in rental income. Here is how we distribute that money:

I use a worksheet I developed to keep track of these disbursements. I use it to track all sales revenue and then make the proper distributions into each account accordingly. I gladly share this spreadsheet but be warned, this is based on our annual revenue of less than $250,000 per year. If your business makes more, good for you! But by this time you probably have hired a proper bookkeeper? If not, change the percentages in Columns B and C accordingly. And then think about that bookkeeper….
After reading this book, I was immediately on board and started to use this system. Although I mistakenly thought that my personal savings account could be used as a Profit Account. Wrong! That's co-mingling and illegal. If I put money from the business account into my savings account, that is payroll and I must pay personal income tax on it. Thankfully my banker pointed out what I had overlooked and opened a separate business savings account for me.
It is wise to keep some of these accounts in separate banks so that you are not tempted to touch them. The tax account can get pretty attractive but that is not your money. That is the government's money so you have to make it hard to get to until tax time.
You should also automate these disbursements but if your business has erratic income, that can be tough. Do the best you can or else keep to a regularly-scheduled money transfer system between accounts.
Maybe you don't like managing all of your four accounts yourself. Fair enough. There are bookkeepers trained in this system. You can find them at the author's website. If you've already got someone you like, ask them about this system. It's worth a conversation at least.
One more thing: I do keep register-type spreadsheets for each of these four accounts. That helps me remember which deposit was for which sale in the business. I also balance those with the bank statements just to be sure. This is probably extra credit but a financial expert I respect once said: "Money goes to people who take care of it. Money likes to be counted." So I do it carefully. And I enjoy it.
This is just a small CliffsNotes-type summary of all that there is to learn in this book, Profit First. For more detail, I highly suggest reading the book. If you have questions or comments, I welcome them! Happy bookkeeping everyone! Count that money and enjoy it!