Natali Morris Blog
January 6, 2016
This month we made a $25,000 principal payment on our mortgage and that took our projected interest on this house from $127,503 to $112,776. So not only did this huge principal payment save us almost $15,000, it also cut the life of our loan down by almost a year. Which means we are one year closer to being mortgage free!
Now before you think that I am bragging about having $25,000 to put down on the loan, you must know that this money came from a Home Equity Line of Credit, or a HELOC. Listen closely if you want to kick your interest payments in the balls!
Using a HELOC to cut down your mortgage payment is many things: brilliant, economical, sensible, but it also takes discipline, management, and planning. Can you do that? Of course you can! You are the steward of your finances! So let's do this!
A HELOC is a loan based on your equity in your home. You apply for it at a bank. Most banks do this. Say your home is worth $100,000 and your remaining mortgage balance is $50,000. That means that you have $50,000 worth of equity in that home. You can get a loan on that equity and the lender puts a note on your home saying that if something bad happens , they get paid back along with the original mortgage holder.
Most banks will loan you between 80 and 90% of the value of your equity. Let's assume 90% in this case: 90% of $50,000 is $45,000.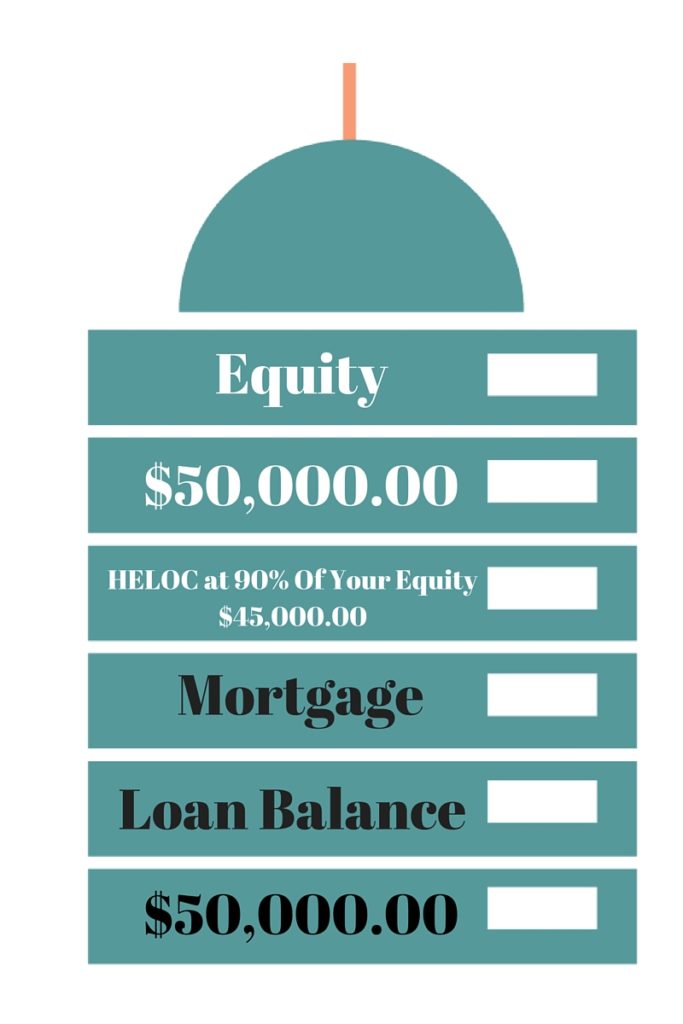 So you now have $45,000 to spend as you wish. It is your equity after all! You get a checkbook, a debit card, and an online account. Do you have to pay it back? Yes you do. You have a set number of years. More about that below.
The interest on this loan is typically very low for the first year and then it varies based on the market rate of interest. Our HELOC is set at 1.99% interest for the first year. So let's brainstorm how to use that low-interest money wisely!
Car loan! We had a car loan of about $15,000 and the interest on that loan was 4.09%. Wouldn't we do better to pay off the car loan at 4.09% with a new loan at 1.99%? Of COURSE! Simple math.
Credit card debt? That is costing you at least 15% interest. Make sense to put it on the HELOC? OF COURSE!
Vacation? These new boots that I want? You could but this doesn't save you any money in interest. The point here is to use the low-interest HELOC to save on interest payments wherever they exist in your life. Remember, we are moving around debt we already have to a lower-interest loan!
So now about that home debt…
Your home mortgage is amortized, meaning that the amount you pay in interest is based on what is left on the principal of the loan. Your enemy here is both TIME and RATE of interest. The longer it takes you to pay this off, the longer you are chipping away at your balance ever so slowly and racking up interest payments. But if you take big whacks at the principal, then more of your monthly payment goes to principal, and the life and amount of your interest melt away like butter. I'm not sure I'm explaining this as awesomely as this whole concept is. Lets get some help from Excel. I found a template called Loan Amortization Schedule. I shall share it with you gladly! Click here:
In this worksheet, input the terms of your loan and it will tell you how much you will be paying in interest for the proposed life of the loan. Now play with putting down more to principal in Column E and see how much of a difference it makes in the Cumulative Interest Column J! It will amaze you!
We have two mortgages because we split our time between New Jersey and the Poconos. We decided to put $25,000 from our HELOC on each mortgage and the combined savings in interest was over $30,000 and it knocked a year off of both loans.
It is amazing what you can do when you are opportunistic with your borrowing!
And now what about paying that HELOC back? So glad you asked!
You can just make payments to the HELOC with whatever is left over at the end of the month but that is not the Ninja Trick way to do it. Here is the Ninja Trick way:
You treat your HELOC like a checking account. Take your paycheck from your day job and deposit the money into the HELOC. ALL OF IT! Pay all of your family's expenses out of the HELOC – the ones you cannot pay out of your small business, that is. Even deduct your monthly savings from the HELOC. Now pay all expenses through this account.
It used to be that you could not write checks out of the HELOC for less than $500. My bank says that is no longer the case for them but check with yours. But we don't pay for everything with the HELOC account. Instead we use a points-based credit card and then pay it off every month with the HELOC by a simple online bank transfer. This way we are earning mileage with every purchase and not having to pay for piddly little purchases out of the HELOC.
The key is to spend LESS than you MAKE. The leftover money will build back up the HELOC until you have $45,000 to spend again and then you put another big chunk down on your mortgage and start all over.
Play with it in the worksheet and see what I mean. Put an extra chunk in Column E every year or every other year and see what happens to Column J. Write down the original interest you were planning to pay and the number of payments. Now compare when you add in those big pay-downs.
Here is an example: Say you make $10,000 per month. Your family expenses are about $8,000 (including savings!). The remaining $2,000 stays in the HELOC where you had taken out $45,000. Slowly but surely, that extra $2,000 per month builds itself back up to $45,000. Now you're back to where you started from and you take another chunk of change and put it on your mortgage AGAIN! Rinse and repeat and you will have saved yourself so much money in interest and so many years on your loan, you will want to kiss me!
Let me attempt to illustrate with this jank graphic I built myself. In my head this helps. Does it help?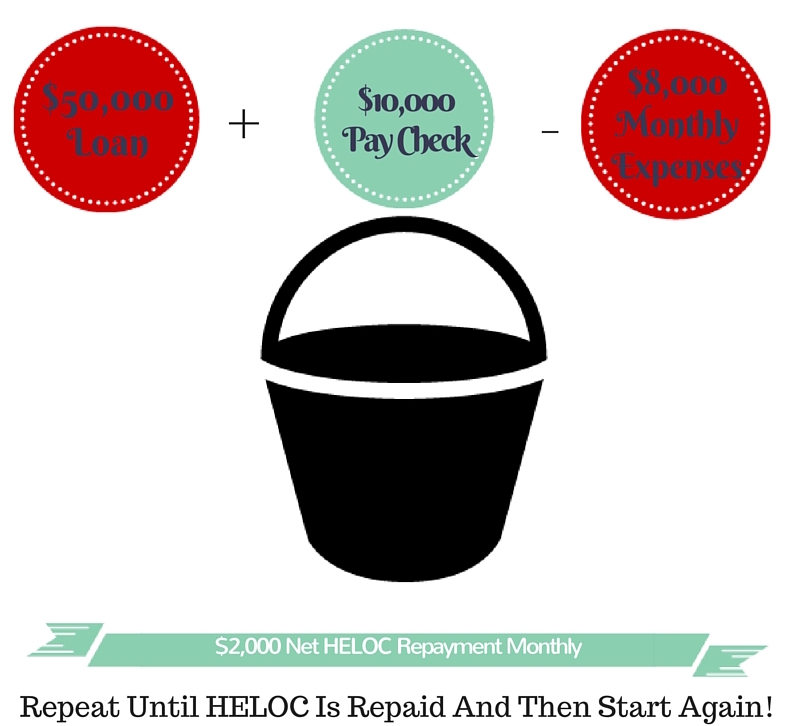 Do you see the beauty? Now every dollar you do not spend on Starbucks goes towards your home principal. You are incented to live frugally because it helps you pay down your mortgage faster!
A few of you have written about what happens with the introductory low-interest rate expires after a year. Good question! You could be paying higher interest than your original mortgage but you have a few options here: pay down other high-interest loans or re-do your HELOC loan. Since the HELOC is based on your equity and after a year of this system, you have more equity, you are eligible for a new HELOC worth more. Dig?
This system is so brilliant but please don't give me any credit. This is something my husband has been preaching for years but when I heard Adam Carroll discuss it on this episode of the Listen Money Matters podcast recently I knew we had to pounce. If you have questions about this, download and listen to this episode! They articulate it better than I ever could and Lord knows I'm trying here.
I'm not going to lie, clicking Submit on a $25,000 payment to your mortgage feels both empowering and terrifying. I did a few fake outs with the mouse click. But then I went over to my Excel spreadsheet and saw what we had just accomplished in interest savings and I danced a little interpretive dance to the Hamilton soundtrack to celebrate. Which I will link you to in a YouTube video never!
Okay I know you have questions! What are your questions! I'll do my best to answer them because it is a New Year and I am loaded for bear!