Natali Morris Blog
October 6, 2015
I'm not above rewarding (bribing) my children but not for chores. I do not believe children should be "paid" to do chores and I am prepared to make the case. So here goes.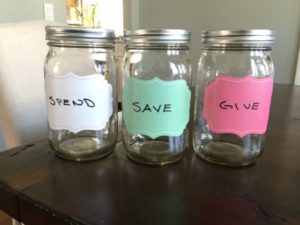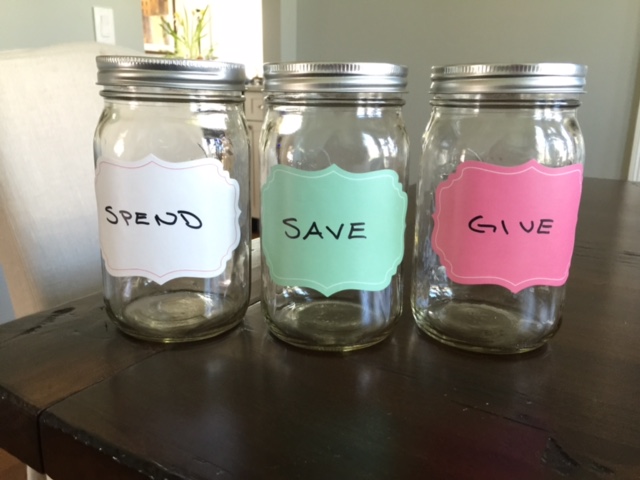 In The Opposite of Spoiled: Raising Kids Who Are Grounded, Generous, and Smart About Money, author Ron Lieber argues that kids should not be given the option to do chores for money. If chores are tied to a monetary incentive, children can opt out and forego payment. It doesn't work like that in the real world. If I don't do my chores, the house goes to pot. If my husband and kids don't do their chores, it puts a burden on others. Chores are not an option. Chores are the responsibility of each team member. Period.
You don't have to look hard to find research that giving children incentives to do something is not good. It diminishes the lesson, hinders learning, and dampens their enjoyment of the actual task. In one study, children were asked to do coloring projects. The children who were rewarded stopped coloring as soon as the treats were brought out. The children who were offered no reward colored longer and were more animated about their projects than the children who were doing it for the loot.
We all have to use bribes, I get that. I bribe my daughter with cookies to wear pants because otherwise she would throw a tantrum to wear her most formal dress every single day. But we should all use bribes sparingly folks! Oh so sparingly.
So then what is allowance? Allowance is not an incentive to do what they must learn to do. Allowance is a weekly stipend to teach them about money. These are two completely separate teachable moments.
Lieber argues that kids should get an allowance to learn financial literacy. He recommends giving them three jars to split their allowance evenly, labeling them Spend, Save, and Give. So we did just that. Note: the jars must be clear so that they can see the pile-up of money. Piggy banks don't work for this.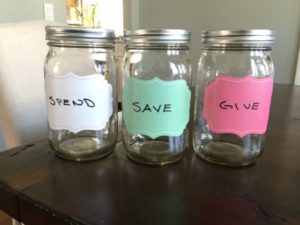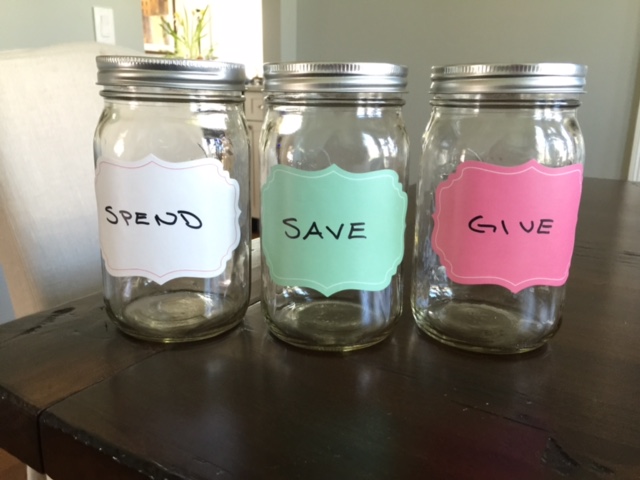 I don't think it is ever too early to start this! My 3 and 5 year-old children get $1 in each jar every Saturday. Here are the lessons that they have learned in roughly 8 months of this system.
Spend Jar
When they want a new toy and it is not a birthday or holiday, I tell them to grab their Spend jar and we head to a toy store. We've done this many times and it is a wonderful lesson, especially when they want toys that are close to $40 but only have $12 to spend.
This is hard for me! Of course I could cover the difference but that negates the lesson. I've seen my children save for things and it is so much more meaningful when they finally afford them. I've also seen them waste their money on things I thought were stupid but bit my tongue. I need them to learn what it means to waste money. I want them to realize when they blow all their dough on something that they don't really play with.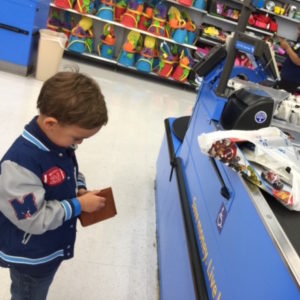 Just a warning: making your child pay for their own toy with their own money can irritate other shoppers. Kids cannot check out quickly. I make sure to explain this to anyone in line with me, asking for patience, and thank the cashier for their patience too. Most people are kind but not everyone will be. Our Target now has self checkout and that is much better for the kids because they can feed their bills directly into the machine.
This also takes the onus off of me when they ask for things. The rules are: Mommy and Daddy take care of Needs. They have to save up for Wants. If they are really saving for something, they can ask to do extra jobs for money but those jobs have nothing to do with their chores.
Also, sometimes Grandma foils my plan and slips larger bills into the Spend jar but I do not interfere with this. That is Grandma's prerogative.
Note: We do have some rules about Spend money. No Spend money can be used on contraband. You'll have to set your own definition of contraband in your house but so far no one has asked to make purchases that I had to intervene thankfully!
Save Jar
This weekend the kids and I went to the bank to deposit the money from their Save jars. They each have no-fee custodial savings accounts with Bank of America. They handed over their jars of singles and coins and got deposit slips back. The deposits were small but they both understood that the money was to be socked away to grow in the bank. I will eventually funnel this money into their IRAs with electronic fund transfers. They don't get that just yet. What they do get is that this money is not for dinosaur-shaped erasers or other made-in-China junk that they are free to buy with their Spend jars.
Give Jar
It is equally important that they understand the power of giving. My husband believes that this is not only an important ethos, but also a way to increase your own wealth.
You must let your children choose how to donate their Give jar money. This weekend my daughter said she wanted to give hers to the kids whose daddies had died. She had seen a commercial for Folds of Honor on my husband's show. I showed them some videos from the Folds of Honor website and they both handed over their Give jars. Of course, I did not mail a wad of singles to the charity. I took the Give jars and kept the singles for upcoming allowances and put the donation on my credit card.
Cute story: Because of the two separate donations, Fields of Honor wrote me to make sure it wasn't an error. I wrote them back explaining that those were my children's allowances and they responded with this email. I was truly touched by this.
I am a big believer in this system to teach my children our family values: financial literacy, goal-setting, and generosity. I strongly urge you to read the book for further tips on doing just that.
I'd love to hear about your family's systems for allowance and chores. Share in the usual ways. And of course, if you'd like to stay on top of my posts and workings, please click below to subscribe to my Chief Home Officer updates!
I appreciate that you've read this and I appreciate your feedback! Very much, my friend. Very much.